Introduction of ourselves
Respect all people and materials
We respect all the employees and all the materials we use as they all have their own precious lives. We sincerely wish that all employees can thoroughly develop their abilities and live their lives lively. We strongly believe that those employees bring their vigor into the company. In the meanwhile, we have great appreciation to the materials we use, such as wheat flour, hen's egg, sugar, butter, and so on. We know that all materials are gifts from a wealth of nature. We always make use of them with great care, and delivering the products on which we put a new life is our mission.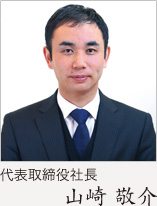 Greeting from CEO
We are the specialized manufacture of cookies and biscuits. We do our best for delivering our products everyday thinking of our mission that we help people smile and make good memories when they are eating our cookies and biscuits.
We have cherished the philosophy since its founding. The philosophy is that we respect all people and materials. By respecting employees, we believe that employees can develop their own strength. Hopefully their strength become No.1 skill in the industry and their skills can add useful and new values on our products. Through their skills, we hope that we can deliver the best cookies and cookies in the market. By respecting all materials, we believe that we can bring out the best quality from the materials. We never stop respecting all materials though all the process from choosing raw materials to packaging the products. As a result of this respecting, we believe that we can deliver our products with the best balance.
We are always encouraged by the messages from our consumers, such as "taste is so good" and "will have them again". Paying attention to our consumers' messages, we never stop our challenging to be the No.1 cookie supplier and expand the cookie's potential market.
CSR

We participate in an activity that protects sound forest by consuming eco friendly materials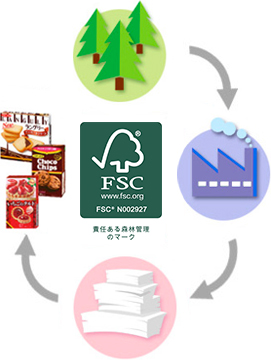 What is FSC certificate
FSC is a system that end consumers can purchase the products that are made of eco friendly materials by choosing FSC labelled products. Once consumers buy FSC labelled products, it contributes to the preserving and supporting of sound forests on the earth.
How ITO BISCUITS contributes
We use FSC certified materials for packages of our products, such as Languly.
ITO BISCUITS fulfills our obligations on environmental conservation. Meanwhile, we supports social activities that contribute to welfare and education of our society.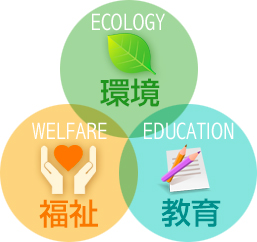 Ecology
We adopt eco trays that are made from the styrofoam of used trays for other products.
Welfare
Disable people from 20s to 50s work at the factory for making eco trays, which supports their independence.
Education
Students in elementary schools in Koto area of Tokyo are supposed to do this factory tour in their school programs. Enlightenment of environmental concerns and development of mutual understanding with disable people are facilitated through this factory tour and communication with them.
Company Profile
Trade name
ITO BISCUITS CO., LTD.
Headquarters
8F Tabata Asuka Tower Building, 6-1-1 Tabata, Kita-ku, Tokyo, Japan 1140014
Established
August 12th, 1952
Capital
One hundred million JPY
Business scope
Manufacturing and sales of cookies and biscuits
Employees
192
Accounting period
March
Officers
Chairman Takeo Ito
CEO Keisuke Yamasaki
Inside director Masaaki Nakamura
Inside director Yuji Miyanaga
Auditor Yukio Sakai
Auditor Kazuhiko Tsukazaki
Main banks
MUFG Bank, Ltd.
SUMITOMO MITSUI BANKING CORPORATION
Group companies
CALCUIT Co., LTD.
CONTRE CO., LTD.
History
| | |
| --- | --- |
| 1952 | Started business in Tokyo |
| 1957 | Succeeded in being the first in Japan to realize a mass production of cookies by wire cutter |
| 1958 | Awarded by prime minister at National confectionary exposition |
| 1959 | Succeeded in being the first in Japan to start the manufacturing of Pretzel |
| 1964 | Installed a steel band oven and manufactured cookies more and more |
| 1974 | Succeeded in being the first in Japan to install the state-of-the-art gas oven |
| 1979 | Technical agreement with Arnot, the no.1 biscuit company in Australia |
| 1989 | Languly Chocolate Cream won the Gold medal at Monde Selection |
| 1993 | Joined NPS that is a group of companies who want to learn TOYOTA Kanban system |
| 1995 | American Soft cookies won the Gold medal at Monde Selection |
| 1996 | Headquarters moved to current building |
| 2000 | Acquired ISO 9001 |
| 2007 | Acquired Organic JAS Certificate |
| 2013 | Opened the direct shop at No.1 factory for substandard products |
| 2018 | Opened the Baumkuchen shop, Atelier Petit Bois |
| 2020 | Acquired FSSC22000 for no.2 factory |
| 2021 | Acquired FSSC22000 for no.1 factory |
Location of offices and factories